Virginia Area Code Information

Virginia Area Code Overlays
(540 and 826) - (571 and 703) - (757 and 948)


Virginia is currently using nine area codes. Virginia is using three area code overlay plans, often called an overlay complex.

Virginia originally had one area code, 703, when the numbering system was established in 1947. It was not until 1973 that Virginia experienced sufficient growth in population and telephone use to need an additional area code. To meet this increase in demand area code 703 was split in 1973 to form area code 804. It was twenty-two years later before the demand for new area codes in Virginia required another split of area code 703 to form area code 540.

Today area code 703 and the overlay 571 covers northern Virginia and the suburbs of Washington, D.C. This includes Alexandria, Arlington, Fairfax and Prince William. Area code 804 covers the Richmond Metro area including Petersburg. Area code 540 covers central and northern Virginia including Blacksburg, Harrisonburg, Roanoke. Area code 757 covers the Norfolk Metro area including Virginia Beach and the southeastern portion of Virginia. Area code 434 covers south-central Virginia including Charlottesville, Danville and Lynchburg. Area code 276 covers southwestern Virginia including Martinsville and Wytheville.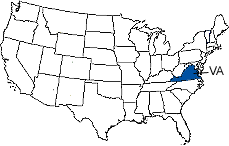 Changes and History of Virginia Area Codes:

01/01/1947
Area code 703 was put into service. Area code 703 has been split 2 times. In 1973 area code 703 was split to form area code 804. In 1995 area code 703 was split to form area code 540. In 2000 area code 703 was overlaid with area code 571.

06/24/1973
Area code 804 was put into service. Area code 804 was created from a split of area code 703. In 1996 area code 804 was split to form area code 757. In 2001 area code 804 was split to form area code 434.

07/15/1995
Area code 540 was put into service. Area code 540 was created from a split of area code 703. In 2001 area code 540 was split to form area code 276.

07/01/1996
Area code 757 was put into service. Area code 757 was created from a split of area code 804.

03/01/2000
Area code 571 was put into service. Area code 571 is an overlay of area code 703.

06/01/2001
Area code 434 was put into service. Area code 434 was created from a split of area code 804.

09/01/2001
Area code 276 was put into service. Area code 276 was created from a split of area code 540.

05/09/2022
Area code 948 was put into service as an overlay of area code 757.

06/14/2022
Area code 826 was put into service as an overlay of area code 540.

02/01/2024
Area code 686 will be put into service as an overlay of area code 804


Select Any Virginia City or Town Alphabetically




Area Codes in Selected Virginia Locations
Area Codes Look Up By State and City
Area Codes Look Up in Surrounding Places