Area Code 804

Area Code 804 is in Virginia

Virginia Area Code Overlays
(540 and 826) - (571 and 703) - (757 and 948)


Area Code 804 History:

06/24/1973
Area code 804 was officially put into service. Area code 804 was created from a split of area code 703. In 1996 area code 804 was split to form area code 757. In 2001 area code 804 was split to form area code 434.

The Virginia State Corporation Commission has approved area code 686 as an all services overlay of area code 804. Area code 686 will be put into service on February 1, 2024. Ten digit dialing (area code + seven digit number) will be necessary in the 686/804 overlay because different homes in the same geographic area can have the same seven digit phone number but each would have a different area code.

Counties in Virginia within area code 804 include:

Amelia County, Caroline County, Charles City County, Chesterfield County, Colonial Heights City County, Cumberland County, Dinwiddie County, Essex County, Gloucester County, Goochland County, Hanover County, Henrico County, Hopewell City County, King and Queen County, King William County, Lancaster County, Mathews County, Middlesex County, New Kent County, Northumberland County, Petersburg City County, Powhatan County, Prince George County, Richmond County, Richmond City County, Sussex County, and Westmoreland County.

Major cities or places in Virginia within area code 804 include:

Area code 804 serves the Richmond metropolitan area including the larger cities of Hopewell, Mechanicsville, Petersburg, Richmond, and Tuckahoe in addition to many smaller communities within the area code 804 service area.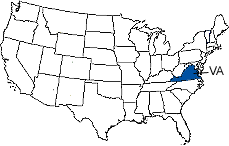 Select Any Virginia City or Town Alphabetically




Area Code Look Up - Select An Area Code To Find Its Location