Area Code 629

Tennessee Area Code Overlays
(615 and 629)


Area Code 629 History:

03/28/2015.

Area code 629 was officially put into service as an overlay of area code 615. Effective February 28, 2015 ten digit dialing in the 629 and 615 area codes became mandatory.

Ten digit dialing (area code + seven digit number) is necessary in the 615/629 overlay because different homes in the same geographic area can have the same seven digit phone number but each would have a different area code.

Counties in Tennessee within area code 629 include:

Cannon County, Cheatham County, Davidson County, Dekalb County, Dickson County, Macon County, Robertson County, Rutherford County, Smith County, Sumner County, Trousdale County, Williamson County, and Wilson County.

Major cities or places in Tennessee within area code 629 include:

Area code 629 along with area code 615 serve central Tennessee and the Nashville metropolitan area including the larger cities and communities of Brentwood, Franklin, Gallatin, Hendersonville, Lebanon, Murfreesboro, and Smyrna in addition to many smaller communities within the area code 615 service area.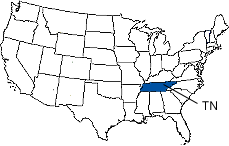 Select Any Tennessee City or Town Alphabetically




Area Code Look Up - Select An Area Code To Find Its Location