Area Code 217

Area Code 217 is officially in Illinois

Illinois Area Code Overlays
(217 and 447) - (224 and 847)
(309 and 861) - (312 and 872)
(331 and 630) - (464 and 708)
(618 and 730) - (773 and 872)
(779 and 815)


Area Code 217 History:

Area code 217 was officially put into service on 01/01/1947. In 1957 area code 217 was split, along with a portion of area code 815, to form part of area code 309.

Area code 447 was put into service as an all services overlay of area code 217 on 03/27/2021. Ten digit dialing (area code + seven digit number) became necessary in the 217/447 overlay effective February 27, 2021 because different homes in the same geographic area can have the same seven digit phone number but each would have a different area code.

Counties in Illinois officially within area code 217 include:

Adams County, Bond County, Brown County, Cass County, Champaign County, Christian County, Clark County, Coles County, Cumberland County, Dewitt County, Douglas County, Edgar County, Effingham County, Fayette County, Ford County, Greene County, Hancock County, Henderson County, Iroquois County, Jasper County, Logan County, Macon County, Macoupin County, Madison County, Mason County, Menard County, Montgomery County, Morgan County, Moultrie County, Piatt County, Pike County, Sangamon County, Schuyler County, Scott County, Shelby County, and Vermilion County.

Major cities or places in Illinois officially within area code 217 include:

Area code 217 covers a large portion of central Illinois and serves the major cities of Champaign, Charleston, Danville, Decatur, Quincy, Springfield and Urbana.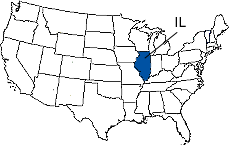 Select Any Illinois City or Town Alphabetically




Area Code Look Up - Select An Area Code To Find Its Location