Area Code 843

South Carolina Area Code Overlays
(843 and 854) - (803 and 839)


Area Code 843 History:

03/22/1998
Area code 843 was officially put into service. Area code 843 was created from a split of area code 803.

Area code 854 was officially put into service as an overlay of area code 843 on October 19, 2015.

Ten digit dialing (area code + seven digit number) is necessary in the 843/854 overlay because different homes in the same geographic area can have the same seven digit phone number but each would have a different area code.

Counties in South Carolina within area code 843 include:

Beaufort County, Berkeley County, Charleston County, Chesterfield County, Clarendon County, Colleton County, Darlington County, Dillon County, Dorchester County, Florence County, Georgetown County, Hampton County, Horry County, Jasper County, Kershaw County, Marion County, Marlboro County, and Williamsburg County.

Major cities or places in South Carolina within area code 843 include:

Area code 843 along with area code 854 covers the eastern and coastal areas of South Carolina including Charleston, Florence, Hilton Head Island, Mount Pleasant, Myrtle Beach, North Charleston, and Summerville in addition to many smaller coastal area communities within the area code 843 service area.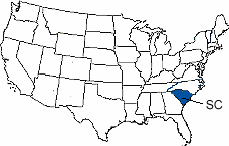 Select Any South Carolina City or Town Alphabetically




Area Code Look Up - Select An Area Code To Find Its Location