Area Code 812

Indiana Area Code Overlays
(812 and 930) - (317 and 463)


Area Code 812 History:

01/01/1947
Area code 812 was officially put into service.
On March 7, 2015 area code 930 was officially put into service as an overlay of area code 812. Effective February 7, 2015 ten digit dialing in area codes 812 and 930 became mandatory. For more details view area code 930.
Ten digit dialing (area code + seven digit number) is necessary in the 812/930 overlay because two different homes in the same geographic area can have the same seven digit phone number but each would have a different area code.
Counties in Indiana within area code 930 include:

Bartholomew County, Brown County, Clark County, Clay County, Crawford County, Daviess County, Dearborn County, Decatur County, Dubois County, Floyd County, Franklin County, Gibson County, Greene County, Harrison County, Jackson County, Jefferson County, Jennings County, Johnson County, Knox County, Lawrence County, Martin County, Monroe County, Ohio County, Orange County, Owen County, Perry County, Pike County, Posey County, Ripley County, Scott County, Shelby County, Spencer County, Sullivan County, Switzerland County, Vanderburgh County, Vigo County, Warrick County, and Washington County.

Major cities or places in Indiana within area code 812 include:

Area code 812 serves southern Indiana including the larger cities of Bloomington, Clarksville, Columbus, Evansville, Jeffersonville, New Albany, and Terre Haute in addition to many smaller communities within the area code 812 service area.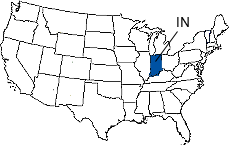 Select Any Indiana City or Town Alphabetically




Area Code Look Up - Select An Area Code To Find Its Location