Area Code 564

Washington Area Code Overlays
(360 and 564)

Area Code 564 History:

08/28/2017.

Area code 564 area code was officially put into service as an overlay of area code 360. Ten digit dialing (area code + seven digit number) became necessary in the 360/564 overlay because different homes in the same geographic area can have the same seven digit phone number but each would have a different area code. Area code 564 will be expanded to serve area code 206 as an overlay on June 10, 2025.

Clallam County, Clark County, Cowlitz County, Grays Harbor County, Island County, Jefferson County, King County, Kitsap County, Lewis County, Mason County, Pacific County, Pierce County, San Juan County, Skagit County, Snohomish County, Thurston County, Wahkiakum County, and Whatcom County.

Major cities or places in Washington within area code 564 include:

Area code 564 serves most of western Washington except for the Seattle metropolitan area which is served by area code 206. Area code 564 serves the larger cities and communities of Bellingham, Bremerton, Lacey, Longview, Marysville, Mount Vernon, Olympia, Port Angeles, and Vancouver in addition to many smaller communities.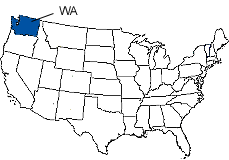 Select Any Washington City or Town Alphabetically




Area Code Look Up - Select An Area Code To Find Its Location