New Brunswick Area Code Information

New Brunswick is currently using one area code. New Brunswick does not utilize any area code overlays at this time. Area code 506 covers all of the province of New Brunswick.

From 1947 until 1955 New Brunswick utilized area code 902. When area code 902 was established in 1947 it served the three provinces of New Brunswick, Nova Scotia and Prince Edward Island. Newfoundland and Labrador were added in 1949 when they joined Canada. In 1955 area code 902 was split to form area code 506 which was assigned to New Brunswick, Newfoundland and Labrador. In 1962 area code 506 was split to form area code 709 which was assigned to Newfoundland and Labrador. Area code 506 then served New Brunswick exclusively.

Changes and History of New Brunswick Area Codes:

01/01/1955
Area code 506 was put into service. Area code 506 was created from a split of area code 902.

04/29/2023
Area code 428 will be put into service as a distributed overlay of area code 506 effective 04/29/2023. Previously, the Canadian Radio-television and Telecommunications Commission (CRTC) planned to put area code 428 in service on 11/21/2020 but revised this date to 04/29/2023.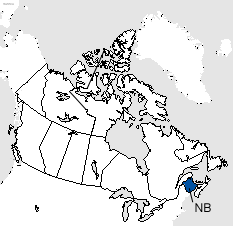 Select Any New Brunswick City or Town Alphabetically




Area Codes By Province or Territory
Area Codes in Surrounding Places