Area Code 910

Area Code 910 is in North Carolina

North Carolina Area Code Overlays
(336 and 743) - (472 and 910)
(704 and 980) - (919 and 984)


Area Code 910 History:

11/14/1993
Area code 910 was officially put into service. Area code 910 was created from a split of area code 919. In 1997 area code 910 was split to form area code 336.

10/07/2022
Area Code 472 was put into service as an all services overlay of area code 910. Ten digit dialing (area code + seven digit number) is necessary in the 910/472 overlay because different homes in the same geographic area can have the same seven digit phone number but each would have a different area code.

Counties in North Carolina within area code 910 include:

Bladen County, Brunswick County, Carteret County, Columbus County, Cumberland County, Duplin County, Harnett County, Hoke County, Jones County, Montgomery County, Moore County, New Hanover County, Onslow County, Pender County, Richmond County, Robeson County, Sampson County, and Scotland County.

Major cities or places in North Carolina within area code 910 include:

Area code 910 serves southeastern North Carolina including the larger cities and communities of Fayetteville, Fort Bragg, Jacksonville, Lumberton, Wilmington and Seymour Johnson AFB, in addition to many smaller communities within the area code 910 service area.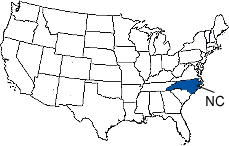 Select Any North Carolina City or Town Alphabetically




Area Code Look Up - Select An Area Code To Find Its Location