Area Code 510

Area Code 510 is in California

California Area Code Overlays
(209 and 350) - (310 and 424)
(341 and 510) - (369 and 707)
(415 and 628) - (408 and 669)
(714 and 657) - (760 and 442)
(818 and 747) - (820 and 805)
(840 and 909) - (916 and 279)


Area Code 510 History:

09/02/1991
Area code 510 was officially put into service. Area code 510 was created from a split of area code 415. In 1998 area code 510 was split to form area code 925.

07/22/2019
Area code 341 was officially put into service as a distributed overlay of area code 510. Effective June 22, 2019 ten digit dialing (area code + seven digit number) became necessary in the 510/341 overlay because different homes in the same geographic area can have the same seven digit phone number but each would have a different area code.

Counties in California within area code 510 include:

Alameda County, and Contra Costa County.

Major cities or places in California within area code 510 include:

Area code 510 serves much of the Eastern Bay area in Alameda County and the western portion of Contra Costa County in California including the larger cities and communities of Alameda, Berkeley, Castro Valley, El Cerrito, Emeryville, Fremont, Hayward, Hercules, Newark, Oakland, Piedmont, Pinole, Richmond, San Leandro, San Lorenzo, San Pablo, and Union City in addition to many smaller communities.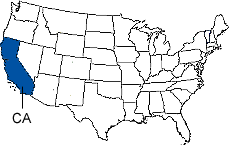 Select Any California City or Town Alphabetically




Area Code Look Up - Select An Area Code To Find Its Location