Area Code 475

Connecticut Area Code Overlays
(203 and 475) and (860 and 959)


Area Code 475 History:

12/12/2009
Area code 475 was officially put into service. Area code 475 is an overlay of area code 203.

Counties in Connecticut using area code 475 include:

New Haven, Fairfield and Litchfield.

Places in Connecticut using area code 475 include:

Allingtown, Ansonia, Beacon Falls, Belle Haven, Bethany, Bethel, Bethlehem, Botsford, Branford, Bridgeport, Brookfield, Brookfield Center, Cheshire, Cos Cob, Danbury, Darien, Derby, East End, East Haven, East Norwalk, Easton, Fair Haven, Fairfield, Georgetown, Glenbrook, Glenville, Greens Farms, Greenwich, Guilford, Hamden, Hawleyville, Huntington, Madison, Meriden, Middlebury, Milford, Monroe, Mount Carmel, Naugatuck, New Canaan, New Fairfield, New Haven, Newtown, Noroton, Noroton Heights, North Branford, North Haven, Northford, Norwalk, Old Greenwich, Orange, Oxford, Plaza, Prospect, Redding, Redding Center, Redding Ridge, Ridgefield, Ridgeway, Riverside, Rowayton, Roxbury, Sandy Hook, Saugatuck, Seymour, Shelton, Sherman, South Britain, South Norwalk, Southbury, Southport, Springdale, Stamford, Stepney, Stevenson, Stratford, Tokeneke, Trumbull, Union City, Upper Stepney, Wallingford, Waterbury, West Haven, West Redding, Weston, Westport, Westville, Whitneyville, Wilton, Wolcott, Woodbridge, Woodbury, and Yalesville.

Major cities or places in Connecticut using area code 475 include:

Area codes 203 and 475 serve the southwestern portions of Connecticut including the larger communities of Bridgeport, Danbury, Darien, East Haven, Meriden, Milford, Naugatuck, New Haven, Norwalk, Orange, Shelton, Stamford, Trumbull, Waterbury, West Haven and Westport in addition to many smaller communities.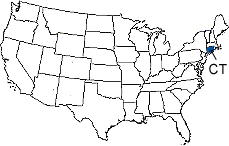 Select Any Connecticut City or Town Alphabetically




Area Code Look Up - Select An Area Code To Find Its Location