Chicago, Illinois Area Code

Chicago, IL originally utilized area code 312 which was one of the original area codes assigned to Illinois in 1947. In 1996 area code 312 was split to form area code 773. Area code 312 then served the downtown area, or inside "The Loop" and area code 773 served the remainder of the city. On November 7, 2009 area code 872 was put into service. Area code 872 is an overlay of of both 312 and 773.

In Chicago, IL ten digit dialing is necessary in the area code overlays 312 and 872 within the downtown area, and 773 and 872 outside the downtown area. Ten digit dialing (area code + seven digit number) is necessary because two different homes or businesses in the same geographic area can have the same seven digit phone number but each would have a different area code.
Chicago, IL is located in Cook County and observes the Central Time Zone.
View our Times by Area Code tool.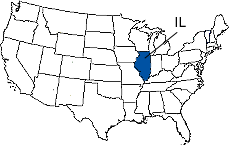 Select Any Illinois City or Town Alphabetically




Area Codes Look Up By State and City
Area Codes Look Up in Surrounding Places